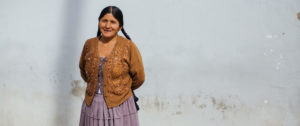 Mayor Dunia Rojas is a force to be reckoned with.
Standing four and a half feet tall with long twin braids down her back, Dunia Rojas is the mayor of the district of Arani, Bolivia. She's not afraid to face a challenge head on – like getting every person in her district safe water.
Read More

Isidora Calderon Vargas rests in the shade of her porch while her five-month-old son Abel naps inside. Sober-faced Isidora grew up in this small community in rural Bolivia. At age 35, you can see in her serious eyes that she faced more than her share of life's difficulties.
Read More